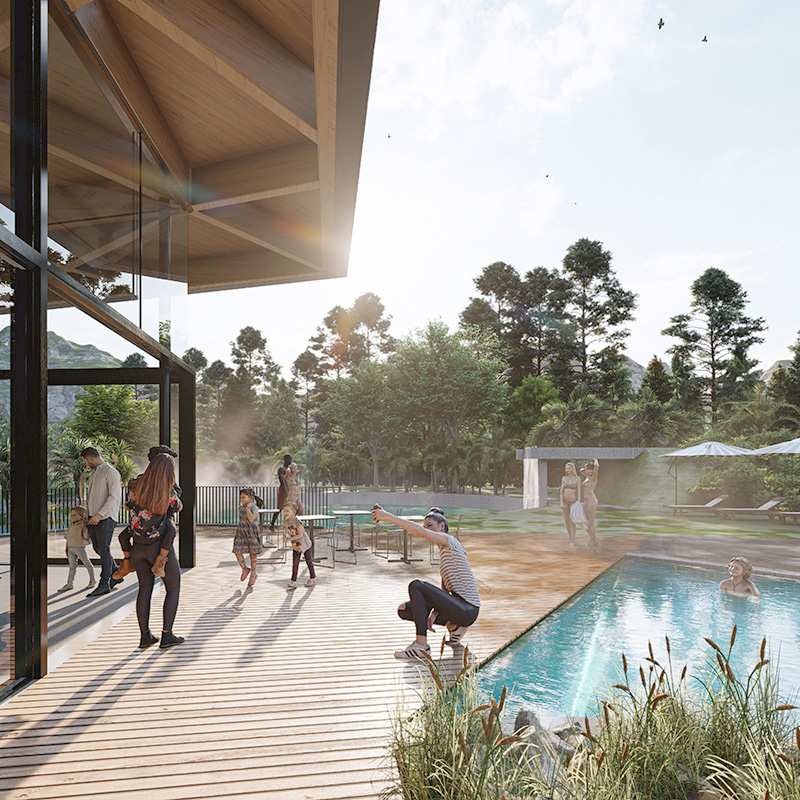 Leading global spa experts Spa Vision and Spa Guru Consulting have been selected as spa consultants for Opuke Thermal Pools & Spa on the outskirts of Methven on New Zealand's South Island.
The inspiring project, being developed by Methven Adventures, is a unique wellness tourism project catering for a broad spectrum of travellers and local guests, from families to luxury consumers. At its heart the focus is on delivering a premium-quality and sustainable hot pools and spa experience, set against a stunning mountain backdrop; sourced from the mountains, powered by the sun.
Spa Vision, led by Australian based Director Neil Owen have been involved in a variety of elements of the planning and design phase to ensure the optimal solution for this extraordinary development. This has required a turn-key approach from the outset, working in close partnership with Kirien Withers of Spa Guru Consulting utilising her extensive regional knowledge and experience.
In addition, this project has seen close collaboration with manufacturing partners at Kurland who have designed and supplied a custom Rasul® and Soft-Pack®-System experience. A unique 'Spa Hutt' welcome and treatment area inspired by Withers invites guests into the spa and 5 multifunctional treatment rooms, including 2 double rooms and a relaxation lounge to complete the treatment area.
Neil Owen, Director at Spa Vision, said, "Opuke is a truly exciting and extraordinary project for many reasons. It gives us the opportunity to showcase our comprehensive approach, as well as our collective expertise and understanding in the spa and wellness space. Our collaborative approach with Spa Guru Consulting is of great benefit to the client, and enables us to combine our efforts to ensure the absolute success and efficiency of the project.
Kirien of Spa Guru Consulting has worked in New Zealand with hot springs in the past and we have extensive experience of working with thermal spas in Europe, so together this is the perfect project to team up on. Being able to take the client from concept stage throughout the project, providing a cohesive, comprehensive and efficient approach from start to finish, really sets up apart in this field."
Commenting on the project. Kirien Withers of Spa Guru Consulting, said, "Opuke brings together a number of key principles which are increasingly important in the wellness space – from sustainability to inclusivity. The vision is one of excellence, but also vitally about offering a range of experiences for different guests groups. I am delighted to be able to collaborate with Spa Vision on this project to combine our experience and skills to help make this vision a reality."
Opening in January 2021, Opuke Thermal Pools & Spa is set to source water from the Rangitata river that is fed by the glacial melt water emerging from the Southern Alps, utilising an industry-leading water treatment system to ensure the optimal purity of the bathing water. In addition, the use of thermal collectors will serve as the primary pool water heating system throughout the year.
Spa Vision supplies, procures and consults for the spa, health, beauty and wellness industries. Globally the business works with a broad spectrum of clients including hotel spas, destination spas, wellness centres, day spas, medi spas, salons, luxury yachts, independent therapists and residential homes.
Spa Guru Consulting's Kirien Withers is credited with driving the original development of the spa industry in Australia. Her expertise across the broadest spectrum of spa insight, experience and knowledge is second to none and she prides herself on grasping the precise needs of each and every client as well as offering totally bespoke solutions.